A Tribute to Thomas Jamison MacBride
March 25, 1914 – January 6, 2000
---
Thomas J. MacBride served with distinction as a United States District Judge in Sacramento for 18 years. He was appointed to the federal bench by John F. Kennedy in 1961 and became Chief Judge of the 34-county Eastern District of California in 1967. He took senior status in 1979 and maintained his chambers at the John E. Moss Federal Building in Sacramento until August of 1997.
Judge MacBride had a unique legal career. In addition to engaging in the private practice of law, he was one of the few persons in the history of Sacramento to serve in the executive, legislative and judicial branches of government.
Judge MacBride was a native of Sacramento and attended local schools. He received his AB degree from the University of California at Berkeley in 1936, and graduated from Boalt School of Law, University of California in 1940. He was a born leader. He was a student body president at Sacramento High School, served as president of his senior class at the University of California at Berkeley, and was President of the student body at Boalt Hall. After his graduation from law school Judge MacBride accepted a position as a Deputy Attorney General under then Attorney General Earl Warren with whom he had a close relationship for forty years.
During World War II, Judge MacBride served as a Navy Combat Intelligence Officer in Brisbane, Australia with the Seventh Fleet Headquarters of General Douglas MacArthur. Following the war, Judge MacBride returned to Sacramento and engaged in the private practice of the law. In the 1950s he was twice elected to the State Assembly. He played a major role in producing a balanced budget for California notwithstanding the State was building the California Water Project, super highways, other public works, and developing the University of California into a world class institution. A less historic but certainly more aesthetically pleasing chapter of his legislative career was a successful effort to illuminate the dome of the State Capital.
On the federal bench Judge MacBride earned a reputation as an outstanding trial judge and was tireless in his efforts to improve the administration of justice at the federal level. He served for many years as the Chairman of the Criminal Justice Act Committee of the U. S. Judicial Conference and was appointed by Chief Justice Warren Berger to the U. S. Foreign Intelligence Surveillance Court which met in top secret in Washington, D. C. to review highly sensitive wire tapping questions.
Judge MacBride's most widely celebrated case was the 1976 trial of Lynette "Squeaky" Fromme who was the first woman in American history to be convicted of attempting to assassinate a President. During the proceedings Judge MacBride traveled to Washington, D. C. to supervise the videotaped testimony of President Gerald Ford. President Ford was the fifth President in history to testify in a criminal trial but the first to do so by videotape. A dramatic incident occurred at Fromme's sentencing. U. S. Attorney Duane Keyes was in the midst of asking Judge MacBride to hand down the most severe punishment. At that point Fromme removed an apple from under her red cloak and hurled it towards the bench. The apple smashed on Mr. Keyes right temple and knocked off and broke his glasses. Spectators were aghast and the court silent. Judge MacBride calmly asked Fromme if she had any more apples in her cloak. "No," she said, "that one was meant for you!" Judge MacBride replied, "That's what I was afraid of." He then proceeded to sentence Fromme to life imprisonment.
Another noteworthy case was the Roseville Bomb trial filed by the Southern Pacific Railroad against the United States Government. The action arose out of the explosion of 18 U.S. boxcars, each loaded with 250 pound aerial bombs destined for Southeast Asia during the Viet Nam War. The tremendous explosion not only destroyed the Southern Pacific facility in Roseville but also destroyed many homes in the surrounding area. The trial lasted 187 days, and the trial transcript ran in excess of 27,000 pages before the case settled in early 1980. MacBride had earlier brought about a settlement of the cases of some 800 individual plaintiffs injured in the explosion on the fifth anniversary of the disaster on April 28, 1978.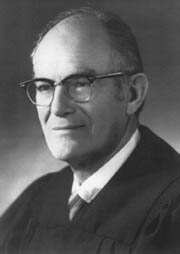 For more than fifty years Judge MacBride was one of Sacramento's premier community leaders. He made lasting contributions to the fabric of life in his hometown. For many years he served as Chairman of the Annual Governor's Prayer Breakfast, and was a faithful participant of Sacramento's own Prayer Breakfast organization. He played a prominent role in the creation of bicycle paths along the American River. He was a lifetime supporter and fund-raiser for the Sacramento YMCA and served as President of the Rotary Club of Sacramento. Judge MacBride provided leadership and support to the development of youth hostels. The hostel in downtown Sacramento includes a room named in honor of Judge MacBride and his wife Martha MacBride.
Notwithstanding his many activities, Judge MacBride still had time for recreation. He was an avid gardener, enthusiastic duck hunter, and an expert fisherman.
As evidence of Judge MacBride's great popularity and high esteem, more than 1,000 friends and associates attended his retirement dinner in 1979.
Judge MacBride once said that if he had any claim to fame it was his family, of whom he was very proud. In 1947 he married Martha Harrold, and their marriage was blessed with four children and two grandchildren.
Contributed by Charles F. Gray, Jr., a former law partner of Judge MacBride
RETURN TO CourtHistory.org.
© 2001 United States District Court for the Eastern District of California Historical Society.