Dedication of Sherrill Halbert Lincoln Collection (page 2)
CHIEF JUDGE SHUBB: Since Judge Halbert would like us to remember Abraham Lincoln's career as a lawyer, it is fitting that we should hear from the bar. Here to speak on behalf of the bar and on behalf of Mr. Lincoln, we have Jan Patrick Sherry of the Sacramento Barristers Club.
JAN PATRICK SHERRY: Thank you, your Honor.
Members of the court, members of the Halbert family, ladies and gentlemen:
I'd like to first take this opportunity to tell you that whenever you organize an event like this, it takes a lot of people. And I'd like to, first of all, thank Jack Wagner and his staff for getting all the invitations out.
And when Judge Shubb approached the Barristers to help and be involved in this event, I did what every president does. I appointed a committee. My committee members are in the back. They are Noreen Skelly -- if you would just stand for half a second -- Jennifer Shaw, Laura Fowler, and Ken Marks.
All of the food and drink downstairs and all of the preparations for this event are due to their hard work as well as Judge Shubb's hard work. And I'm eternally grateful to them.
I'd also like to take a moment to thank the sponsors for his event. The Daily Recorder has provided us with funds; as has Wilke, Fleury, Hoffelt, Gould & Birney; Weintraub, Genshlea & Sproul; and Downey, Brand, Seymour & Rohwer.
You've had an opportunity this afternoon to hear what kind of man Judge Halbert was. And I'm sorry that I did not have an opportunity to meet him while he was alive. And you've had an opportunity to hear about his connections with the court and his connections with McGeorge.
As someone here speaking on behalf of young lawyers, which is my mission as the president of the Barristers, I'd like to turn your attention to a speech that Abraham Lincoln gave in 1850. I think that you'll agree that what Abraham Lincoln said in 1850 applies to new lawyers, lawyers at my stage of their career, older lawyers, and judges alike. I'm certain that I won't due Abraham Lincoln justice in my presentation, but I hope you'll bear with me.
In addressing a law school in 1850, Abraham Lincoln said:
"I am not an accomplished lawyer. I find quite as much material for a lecture in those points wherein I have failed as in those wherein I have been moderately successful.
"The leading rule for the lawyer, as for the man of every other calling, is diligence. Leave nothing for tomorrow which can be done today. Never let your correspondence fall behind. Whatever piece of business you have in hand, before stopping, do all the labor pertaining to it which can then be done. When you bring a common law suit, if you have the facts for doing so, write the declaration at once. If a law point be involved, examine the books, and note the authority you rely on upon the declaration itself, where you are sure to find it when wanted. The same of defenses and pleas. In business not likely to be litigated -- ordinary collection cases, foreclosures, partitions, and the like -- make all examinations of title, and note them, and even draft orders and decrees in advance. This course has a triple advantage; it avoids omissions and neglect, saves your labor when once done, performs the labor out of court when you have leisure, rather than in court when you have not. Extemporaneous speaking should be practiced and cultivated. It is the lawyer's avenue to the public. However able and faithful he may be in other respects, people are slow to bring him business if he cannot make a speech. And yet there is not a more fatal error to young lawyers than relying too much on speech-making. If any one, upon his rare powers of speaking, shall claim an exemption from the drudgery of the law, his case is a failure in advance.
"Discourage litigation. Persuade your neighbors to compromise whenever you can. Point out to them how the nominal winner is often the real loser -- in fees, expenses, and waste of time. As a peacemaker, the lawyer has a superior opportunity of being a good man. There will still be business enough.
"Never stir up litigation. A worse man can scarcely be found than one who does this. Who can be more nearly a fiend than he who habitually overhauls the register of deeds in search of defects in title, whereon to stir up strife, and put money in his pocket? A moral tone ought to be infused into the profession which should drive such men out of it.
"The matter of fees is important, far beyond the mere question of bread and butter involved. Properly attended to, fuller justice is done to both lawyer and client. An exorbitant fee should never be claimed. As a general rule, never take your whole fee in advance, nor any more than a small retainer. When fully paid beforehand, you are more than a common mortal if you can feel the same interest in the case, as if something was still in prospect for you, as well as for your client. And when you lack interest in the case, the job will very likely lack skill and diligence in the performance. Settle the amount of fee and take a note in advance. Then you will feel that you are working for something, and you are sure to do your work faithfully and well. Never sell a fee note -- at least not before the consideration service is performed. It leads to negligence and dishonesty -- negligence by losing interest in the case, and dishonesty in refusing to refund when you have allowed the consideration to fail.
There is a vague, popular belief that lawyers are necessarily dishonest. I say vague, because when we consider to what extent confidence and honors are reposed in and conferred upon lawyers by the people, it appears improbable that their impression of dishonesty is very distinct and vivid. Yet the impression is common, almost universal.
"Let no young man choosing the law for a calling for a moment yield to the popular belief -- resolve to be honest at all events; and if in your own judgment you cannot be an honest lawyer, resolve to be honest without being a lawyer. Choose some other occupation, rather than one in the choosing of which you do, in advance, consent to be an knave."
Abraham Lincoln said that in 1850. Those comments I think are as important today as they were 150 years ago. Those of us who are members of the bar, who appear here in this court and in courts across the land, should be diligent, should be honest, and have integrity.
Judge Halbert wrote in his description of the Lincoln collection, "I think it is an inspiration to anyone who desires to become a lawyer to see these many volumes that this one man, this country boy who had less than one year of schooling, has caused to be created or has actually brought into being. It is an inspiration and lots of fine ideas ready for students to absorb. Lincoln was no simpleton. He was a bright man, an honest man, and a very clear-thinking man."
I hope that you take the words of Lincoln to heart as you go downstairs and look at the collection. It's displayed in a very beautiful setting and in a very nice way. My commendations to the librarians who put it up. It's really impressive. It's an impressive group of works about an impressive man who continues to talk to us 150 years later.
Thank you, your Honor.
CHIEF JUDGE SHUBB: I see so many more friends of the court and friends of Judge Halbert here that I wish I could introduce all of you, but there are two that I would be remiss if I did not ask to stand. And that is Martha MacBride. Martha, would you please stand. And Sue Wilkins.
Our last speaker before we adjourn to the library will look very familiar to you if you knew Judge Halbert, but it's not Judge Halbert. It's his son Douglas. He is going to speak on behalf of the family, and I hope he will introduce all of the family members, and perhaps have some of them will say a few words to you as well.
Judge Halbert's son, Douglas Halbert.
DOUGLAS J. HALBERT SR.: Judge Shubb, members of the court:
I am humbled by the number of people that are here. It is a very moving experience for me.
There is to this day no man who ever protested more strongly than my father when he was asked to be the part, the limelight, the leader for some particular function. He would protest and protest. And then when finally convinced that he should do it, he loved every minute of it.
Now, I am going to defer making a long speech to the group here today, because I understand there's some nice refreshments downstairs. But I would like to introduce some of my father's legacy who are going to say a few words, and then I will introduce -- well, I think I'll introduce the entire family first, then we'll introduce the ones who are going to say a few words.
First of all, my sister, the greatest sibling a guy could ever have, Shirley Eager. Would you stand and at least let them see you.
We fought like cats and dogs as children, and we found out when we got to about our 20s or 30s, I guess, that having a brother or having a sister wasn't such a bad deal after all.
Shirley's husband, Stanley Eager, is here with us today, and a former member of the Federal Bureau of Investigation. So he has been in the federal system also.
Next in line is the eldest of the grandchildren, Burt Hanson. I say the eldest. I believe it was 24, 48 hours' difference between the time that Burt was born and my son Douglas was born. And he is with us today too. Burt's wife Linda is with us. My daughter-in-law Michelle is with us. And sleeping, so we won't bother him, is the third generation of Halberts here in Michelle's lap. This is Douglas, III. And my two granddaughters, Amanda and Allison.
And that is the Halbert family that is here today and so very proud to have all of you people acknowledging this great day for my dad.
Now, before I go any further, I will have a few more words to say, but Burt is dying to say some words. And he gets first crack at it because he's the older of the grandchildren. So Burt, I turn this to you.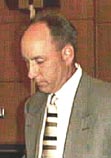 MR. HANSON: Thank you, Doug.
Good afternoon, ladies and gentlemen, distinguished judges.
Judge Shubb conveyed some personal thoughts about my grandfather, and I'd just like to expand on that a little bit, if I might.
Judge Sherrill Halbert, he lived from 1901 to 1991. As you heard, he was born just south of Porterville in the central valley. He was a lifelong Californian. Thirty of those years were spent right here in Sacramento, a city he thoroughly enjoyed. His passions were many: Law, history, the Pony Express, and family. He met while attending Cal, and later married, his college sweetheart Verna in 1927. She remained his love, companion, and soul mate for 64 years.
He loved his children, he adored and spoiled his grandchildren, and found inspiration in his great grandchildren. The memories I have of my grandfather are still vivid. He was a man of great character and class. He defined what was right and decent about this country. He found solace and beauty in his treasured gardens which he nurtured until his death at age 90.
So on behalf of my mother, Shirley Halbert Eager, her husband Stan Eager, my twin sister Karen who could not be here today, I would like to thank Judge Bill Shubb, the judges of the United States District Court, Eastern, McGeorge School of Law, the Daily Recorder, and the Sacramento Barristers Club for this wonderful tribute and dedication.
As a family, we are delighted to know that you regarded this extraordinary individual as highly as we did and feel fortunate to have known him.
Judge Sherrill Halbert, for 32 years, I knew him simply as Grandpa.
Thank you.

DOUGLAS J. HALBERT JR.: Good afternoon. Judge Shubb, members of the court, Dean Caplan, Mr. Sherry, honored guests:
My family and I would like to extend our heartfelt thanks to you for your insights and your kind words about my grandfather, Judge Sherrill Halbert, and for the formal dedication of the Sherrill Halbert Lincoln collection.
In the spirit of Lincoln's Gettysburg Address, my goal is to keep my remarks to under 300 words and keeping over two-thirds of them in one syllable. Now, being an engineer, this should not be a problem. But I believe my grandfather would have wanted it this way.
I remember my grandfather as a quiet man, unassuming, but full of life. In many ways similar to the man, the other man, that we are here to honor today, President Lincoln. Whether he was involved in preserving a piece of history as the president of the National Pony Express or creating a piece of beauty with his love for Camellias, he was always involved in helping people.
And a child, I remember asking him what he enjoyed the most about being a judge. He responded that he enjoyed the naturalization ceremonies the most. That seems fitting of a man who admired Abraham Lincoln. By the way, this is the same judge who reminded us on a number of occasions that if we ever ended up in his courtroom, to bring a toothbrush, because that's all we would need where we were going.
I believe it is a true mark of a great person based on what they are able to give to others. In the case of my grandfather, I believe he gave the greatest gift of all, his time and his passion to make things right for the people. A selfless pursuit, but one that made life a better place for all of us. I am proud of what he accomplished, and I admire his values.
Once again, from Judge Sherrill Halbert's five grandchildren, the oldest of which who spoke so eloquently before me, and his 11 great grandchildren, the youngest of which I'm proud to say sits quietly in my wife's arms, still, we would like to thank you for this wonderful dedication in the honor of my grandfather.
It is now my distinct honor to introduce another man I admire, my father, Douglas Halbert, Sr.
Thank you.
DOUGLAS J. HALBERT SR.: Those two gentlemen are a tough act to follow. And I only have a few more remarks before we close out. But Dad recounted to me his days when he was growing up on that ranch in Tulare County, he actually did do his lessons by the light of a fire, much like we have heard of Abraham Lincoln doing, learning of their lessons.
He loved history. And from his high school days forward, he set his goal to emulate the type of person that he saw Abraham Lincoln to be. And while he did not become the president of the United States, he became the president of my state of mind. He gave me leadership, guidance. And I will never, ever be able to thank him for all of that which he gave me as a child and as an adult. Long into the years that I was in the business world, my father's advice was still very salient and appropriate.
And we're here today to honor him because he always had the right phrase for the right situation. He never claimed to be the originator of those phrases. He only many claimed to be a selected plagiarist.
Now, one of them has already been stolen by Judge Shubb, and I guess that's his privilege because he's the chief judge. So I won't use that one.
But to me, I heard so many times as a child, "Be sure to tell the truth the first time, then you will not have to remember what you said when called upon to repeat it."
Now, once in a while I didn't obey that rule, and there was a very, very harsh reaction. He had a razor strap and knew how to use it. And guess what, it didn't really harm my psyche for the rest of my life.
The next one I skipped because it was stolen, and in the interest of heeding the advice of this man for whom I have such great admiration, I'm going to close with just two of those phrases that I remember so well.
"I never had to explain anything that I did not say." Think about it.
And "I never learned anything while I was doing the talking."
And with those two comments, I would just like to say that my sister Shirley and all of our children cannot thank all of you enough for being here today and for those of you who made all of these arrangements and are honoring our father. We're just most appreciative. And I thank you very much to all.
CHIEF JUDGE SHUBB: Thank you, Douglas.
I had not heard about the razor strap before, but I can tell you there were a number of defendants that appeared in this court that got the taste of his judicial razor strap.
We now come to the most enjoyable and important part of the proceedings where we adjourn downstairs and unveil the plaque and formally dedicate the Halbert Lincoln collection.
I invite all of you to go downstairs where we will do that. When you go in the library, you will see the Lincoln collection as you first walk in the door. We had showcases specially built to display the part of the Lincoln collection that was on display at McGeorge, and their law librarian graciously set it up for us. You will see the portrait on the right. And on the left there is a podium where there is a book that has the entire list of all of the books, along with some brochures. I hope there are enough for you at least to look at and maybe to take home.
The rest of the collection which could not fit in the showcases is around the corner, and you may look at that as well. There will be some refreshments outside the room. When we are all down there, we will formally unveil the plaque and dedicate the collection.
Mr. Clerk, would you please adjourn the court.
THE CLERK: All rise.
(Proceedings were concluded.)
RETURN TO HOMEPAGE
© 2001 United States District Court for the Eastern District of California Historical Society.