Associate Justice Anthony M. Kennedy
ANTHONY MCLEOD KENNEDY was born July 23, 1936, in Sacramento, California, and lived there nearly all his life before being appointed to the Supreme Court. His father, Anthony J. Kennedy, had worked on the docks and put himself through the University of California, graduating from law school in 1927. He moved to Sacramento to take his first job as executive secretary to Gov. James Rolph. After working in state government for several years, he began a private law practice.
Anthony Kennedy's mother, Gladys McLeod Kennedy, graduated from Stanford University in 1928 and taught school in San Francisco for two years before moving to Sacramento to take a job as a secretary in the California Senate. There she met her future husband, whom she married in 1932. The best man at the wedding was the groom's law school classmate Roger Traynor, who later became chief justice of California. Throughout her long life, Mrs. Kennedy was a leader in Sacramento civic activities.
Starting at age eleven and continuing for five years, Anthony Kennedy held a job after school as a page boy for the state Senate. He later worked in his father's law office, proofreading wills and sitting at counsel table while his father tried cases.
After graduating from C. K. McClatchy High School, he attended Stanford University, where he was elected to Phi Beta Kappa and received an A.B. in 1958. He spent his final undergraduate year at the London School of Economics. He attended Harvard Law School, where he served on the board of student advisers, and received a J.D. cum laude in 1961.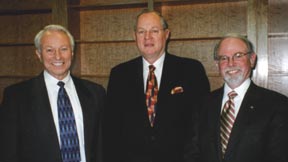 Justice Kennedy with Ninth Circuit Chief Judge Procter Hug (left)
and Eastern District of California Chief Judge William Shubb (right).

He began his law practice as an associate of the San Francisco law firm Thelen, Martin, Johnson, and Bridges. He took a leave of absence during his first year to serve on active duty in the Army National Guard. In 1963, upon the death of his father, he returned to Sacramento to take over the practice. For the next twelve years, he pursued a general law practice. His firm, eventually known as Evans, Jackson and Kennedy, specialized in litigation and corporate work for small businesses, as well as lobbying and state administrative practice.

In 1963, Anthony Kennedy married Mary Davis, a Sacramento native he had known since childhood. Mrs. Kennedy received her undergraduate degree from the University of California and a masters degree in education from Stanford University. For many years she worked as a teacher and librarian in the Sacramento public schools. The Kennedys have three children, Justin, Gregory, and Kristin, all of whom attended Stanford. Gregory is also a graduate of Stanford Law School.

After Ronald Reagan was elected governor in 1966, Kennedy came to know him in the course of doing personal legal work for members of his staff. Reagan asked Kennedy to draft an amendment to the state constitution to impose permanent limits on the taxing and spending powers of the state government. Kennedy worked closely with the governor in developing and promoting this proposal, which was submitted in 1973 as a ballot initiative known as "Proposition 1.'' Although this initiative was defeated, it paved the way for the later success of the "Proposition 13" tax limitation initiative.

In 1974, an opening occurred on the United States Court of Appeals for the Ninth Circuit. Kennedy was recommended for the job by Governor Reagan and selected by President Gerald Ford. Kennedy was confirmed by the Senate in April 1975. At thirty-eight, he was the youngest federal appeals judge in the country when appointed to the bench. While serving on the Ninth Circuit Court of Appeals, Judge Kennedy maintained his chambers in a private office building at 555 Capitol Mall, across the street from the United States District Courthouse at 650 Capitol Mall, in Sacramento.

In 1987, after Justice Lewis F. Powell Jr. retired,the Senate just rejected President Reagan's nomination Judge Robert Bork, after one of the most contentious confirmation fights in U.S. history. Kennedy was at the top of a short list of potential nominees, as a conservative jurist who had not made enemies or written the sort of controversial opinions and articles that had been used against Bork. At the last minute, however, the president was persuaded by a group of hard-core Bork partisans in the Senate to nominate Douglas Ginsburg, a former Harvard law professor and Justice Department official who had recently been appointed to the Court of Appeals for the District of Columbia Circuit. The Ginsburg nomination lasted nine days and was withdrawn after various controversies arose, including revelations about past marijuana use.

President Reagan then nominated Judge Anthony Kennedy for the position. Many Bork critics spoke favorably about Judge Kennedy, and he was perceived by liberals and moderates as more pragmatic and open-minded and less ideological than Bork. He was confirmed by a unanimous vote of the Senate February 3, 1988.

Justice Kennedy has had a long time association as a teacher of Constitutional law at the McGeorge School of Law, in Sacramento, starting in 1965. He was also instrumental in establishing an American Inn of Court, which now meets monthly at McGeorge and bears his name, the Anthony M. Kennedy American Inn of Court.


RETURN TO CourtHistory.org.

© 2001 United States District Court for the Eastern District of California Historical Society.