1991 Ninth Circuit Judicial Conference
A Tribute to the Memory of
Retired District Judge Sherrill Halbert,
Eastern District of California
---
In Memoriam
---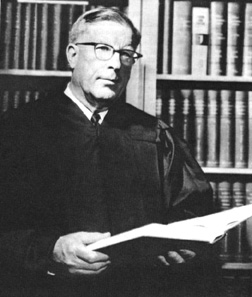 Senior United States District Judge Sherrill Halbert died in Marin County, California, on May 31, 1991. Appointed to the federal bench by President Dwight D. Eisenhower on August 26, 1954, he was the most senior judge of the Eastern District of California.

He was born October 17, 1901, on a sheep ranch south of Porterville, California, which his parents homesteaded in 1881. After graduation from Porterville High School in 1920, he entered the University of California, at Berkeley, where he received his A.B. in 1924 and his LL.B. in 1927.

He practiced law in Tulare County, California, from 1927 to 1942, serving as Deputy District Attorney from 1927 to 1936. When World War II began, he was called by California's then- Attorney General Earl Warren to serve as a Deputy Attorney General from 1942 to 1944. From 1944 to 1949 he served as a Deputy District Attorney in Stanislaus County and was elected District Attorney in 1949. From 1949 to 1954, he served as a judge of the Superior Court of California for Stanislaus County.

When Judge Halbert was appointed to the federal bench, the Eastern District of California had not yet been formed and Sacramento was still part of the Northern District of California. From 1954 to 1961, he was the only federal judge sitting full time in what was then called the Northern Division of the Northern District of California. When the Eastern District of California was eventually created on March 18, 1966, Judge Halbert was one of the three original judges of the district.

A Lincoln scholar, he was a contributing author of Lincoln for the Ages, published in 1960, and Lincoln: A contemporary Portrait, published in 1962. In the early years of Sacramento's McGeorge School of Law he served as Chairman of the Board of Advisors. He was also active in the Sacramento Camellia Festival, the Pioneer Society, and the Pony Express Centennial Celebration.

Judge Halbert took senior status in 1969 but continued to hear cases until his retirement in 1985. Throughout his more than thirty years on the federal bench, he was known as a judge who ran a disciplined courtroom and rendered justice fairly and impartially.

He is survived by his wife, Verna, of San Rafael, California; their daughter, Shirley Eager of Kentfield, California; their son, Douglas J. Halbert, of San Diego; five grandchildren and eight great-grandchildren.




RETURN TO CourtHistory.org.

© 2001 United States District Court for the Eastern District of California Historical Society.