Stephen J. Field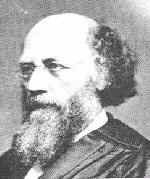 STEPHEN JOHNSON FIELD
Born in Connecticut and raised in Massachusetts, Stephen J Field graduated from Williams College, as class valedictorian in 1887. He studied law in private firms and was admitted to the bar in 1841. In 1850 he settled in Marysville, California, where he practiced law, and was elected Alcalde. He served as a California state representative from 1850 to 1851, and as a Justice of the California Supreme Court from 1857 to 1863. He was an Associate Justice of the United States Supreme Court from 1863 to 1897.
The son of a New England Congregational minister, Field was born into a family that produced several prominent people. His brothers included David Dudley Field, a noted New York lawyer and politician; Cyrus West Field, a promoter of the first Atlantic cable; and Henry Martyn Field, a leading clergyman and author. Field's nephew, David J. Brewer, also was a Supreme Court justice (1889-1910) and served with Field on the Court for the last eight years of Field's service
Field studied law with his brother Dudley and with John Van Buren, son of President Martin Van Buren. He was admitted to the New York bar in 1841 and for the next seven years practiced in partnership with his brother.
But in 1849, after a trip to Europe, he heard the news of gold in California and decided to come west. He came by ship across the Isthmus of Panama to San Francisco, and took the steamer up the Sacramento River to Marysville, in what is now part of the Eastern District of California. He settled there, establishing a successful law practice. Field lived the rough-and-tumble life of a frontier entrepreneur.
He served in 1850 as Marysville's alcalde (the chief local administrative office under the old Spanish system). He quarreled with a local judge and was twice disbarred and once sent to jail for contempt of court. Field was elected to the California House in 1850 and during his year of service was the chief drafter of the civil and criminal codes for the new state. After being defeated in a bid for the state Senate in 1851, he resumed his legal career for a time and then was elected to the California Supreme Court as a free soil, anti-slavery Democrat in 1857. While serving on the California Supreme Court, Field sat in the B. F. Hastings Building, which still exists on Second Street in Sacramento.
In 1863 Congress authorized a tenth seat on the United States Supreme Court, partly to gain a new justice who would support the Civil War measures of the federal government, and partly because there was a need for a new circuit for the West Coast. Many cases concerning land and mineral issues were coming to the Court from California, and westerners wanted someone familiar with those issues.
Field's good friend Leland Stanford, and his brother David Dudly Field urged President Lincoln to appoint him. The California and Oregon congressional delegations unanimously recommended him for the new seat, even though he was a Democrat. He had staunchly supported the Union cause and was an acknowledged expert in land and mining issues. So President Lincoln appointed him.
During his service on the Court, Field served, in 1877, on the electoral commission that decided the contested presidential election in favor of Republican Rutherford B. Hayes. Field voted on the losing Democratic side on all questions.
Field's name was mentioned for the Democratic presidential nomination in 1880 and 1884, but his candidacy did not advance very far. He aspired to be chief justice in 1888, when Morrison Waite died, but President Cleveland picked Melville W. Fuller instead.
On August 14, 1889, in the Southern Pacific depot in Lathrop, California, Field's former colleague on the California Supreme Court, David S. Terry, assaulted him, resulting in Terry being shot and killed by Field's body guard, Deputy U. S. Marshal David Neagle. The attempt by the Sheriff of San Joaquin County to prosecute Neagle for the act resulted in the landmark United States Supreme Court case of In Re Neagle, in which the Court (sitting withut Justice Field) held that a federal officer is immune from prosecution in state court for the necessary and reasonable actrs committed in the performance of his official duties.
In the 1890s Field was taking less and less part in Court proceedings. Finally, after the other justices urged him to retire, Field finally stepped down from the Court in late 1897, but only after he had surpassed Chief Justice John Marshall's record of thirty-four years and five months of service. (Ironically, Field had been part of an effort to get an aging justice, Robert C. Grier, to retire in 1877.) Justice Field died in 1899.
RETURN TO CourtHistory.org.
© 2001 United States District Court for the Eastern District of California Historical Society.