The Honorable Consuelo M. Callahan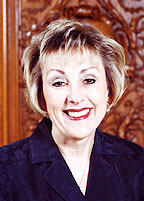 As the first judge from the Eastern District of California to sit on the Court of Appeals since the elevation of Anthony M. Kennedy to the Supreme Court on February 3, 1988, Consuelo Maria Callahan was appointed to the United States Court of Appeals for the Ninth Circuit by President George W. Bush on May 22, 2003. Judge Callahan maintains her chambers at the United States Courthouse in Sacramento.
Education: Stanford University, 1968-72, A.B.; University of the Pacific, McGeorge School of Law, 1972-75, J.D.
Career Record: Admitted to California Bar in December 1975; 1975-76, deputy city attorney, City of Stockton; 1976-82, deputy district attorney, San Joaquin County; 1982-86, supervisory district attorney, San Joaquin County; 1986-92, court commissioner, Municipal Court of Stockton; 1992-96, judge, Superior Court, State of California; 1996-2003, associate justice, Court of Appeal, State of California; appointed by Chief Justice to serve as Pro Tem Justice to the California Supreme Court, served on case heard in May of 1998.
Professional Activities: Board of Governors, San Joaquin County Bar Association, elected position held from 1983-1985; Treasurer and Board of Governors, Women Lawyers of San Joaquin County, elected position held 1980-1986; Stanford Women's Association; California Women Lawyers; Sacramento Women Lawyers; CJER Conference on Children as Victims and Witnesses, Planning Committee; Member of Civil Institute Planning Committee, California Center for Judicial Education and Research, 1994-1995; Chairperson for 1994 Northern California Civil Law and Procedure Workshop; Member of Executive Legislative Action Network, Judicial Council of California, 1994-1996; California Judges Association, 1986 to present; Member of Executive Board of California Judges Association, 1995-1996.
Community Activities: San Joaquin County Child Abuse Prevention Center, past Board Member and President; Judge for "Red Ribbon Week" Competition, yearly campaign to prevent substance abuse; Master of the Bench, Anthony M. Kennedy Inn of Court; Judge for UC Davis Moot Court Orals, Texas Young Lawyers Association Regional Trial Competition, and Northern California High School Moot Court finals; Co-organizer of Government Day for Kids held May 15, 1998; Rotary International (Downtown Stockton); San Joaquin County Domestic Task Force; President of the McGeorge Alumni Association; the Anthony M. Kennedy American Inn of Court (President from 2000 to 2003).
Judge Callahan received recognition by Governor Deukmejian for her work in establishing Victim-Witness Mobile Unit. She received the Susan B. Anthony award for legal services in 1987, the Juvenile Justice Commission award for her work in the fields of child abuse and sexual assault, and the Peacemaker of the Year Award from San Joaquin County Mediation Center in 1997. She has been an Instructor for the California Judicial Education and Research; an Instructor for Delta College Police Academy; and a Lecturer at the University of the Pacific, UC Davis Law School, Humphreys College of the Law, and Delta College. She authored "Women in Law," 1973.
RETURN TO CourtHistory.org.
© 2003 United States District Court for the Eastern District of California Historical Society.