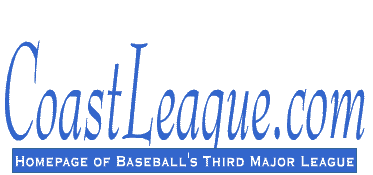 Visit the Old PCL Teams on the Web

The Oakland Oaks of 1948. Focusing on the Oaks' championship year with Casey Stengel, this page takes you back to the golden age of Pacific Coast League baseball, with manager and player profiles, stories, team pictures, sound recordings, and multi-media presentations.

The Sacramento Solons of the 1940's and 1950's. A spinoff of the Oaks webpages, this page by Bill Shubb has recently been upgraded to include the batting and pitching records for every player who appeared for Sacramento in the PCL from 1903 to 1960. It has player profiles, card collections, some team photos and other information.

The Seattle Rainiers. John Reeves' webpage contains a wealth of information, with stories, pictures and sounds, on the PCL franchise that was in Seattle from 1938 to 1964.

The San Francisco Seals. Todd Hawley's webpage focuses on the history of the team and stadium in San Francisco from 1903 to 1957. Anecdotes, stories, and memorabilia.

The San Diego Padres of the PCL. From the Journal of San Diego History, this webpage based on an article by William G. Swank and James D. Smith III, entitled "This Was Paradise," contains interviews with Padres' players from the 1936 - 1958 era.

The Hollywood Stars. A part of Sports Hollywood, presented by Comedy on Tap, this classy webpage by Jeff Hause takes a nostalgic look at the flamboyant Southern California team that performed at Gilmore Field.

The Los Angeles Angels. Another one of Jeff Hause's "Sports Hollywood" pages, this one features the Stars' arch rival from the West Coast's Wrigley Field.

The Oakland Oaks of the 1950's. A followup to the 1948 Oaks page, this webpage looks at the Oakland Oaks teams of the 1950's. More photos, profiles and information.

The statistics for the old Portland Beavers from 1903 through 1957 can be found on a webpage created by the Oregon Stadium Campaign, which is a coalition of organizations working to bring Major League Baseball to Oregon.

More Old PCL Links

Join the Pacific Coast League Historical Society. Annual membership dues of $15 includes a subscription to the "Potpourri" newsletter. Write to Richard Beverage, PCLHS, 420 Robinson Circle, Placentia, CA 92870.

Dick Dobbins' book, "The Grand Minor League" is now available on line, at your local book store, or by sending $37 to Judy Dobbins, PO Box 193, Alamo, CA 94507.

Interested in old PCL baseball cards? Contact Mark Macrae, Box 2111, Castro Valley, CA 94546.

See the Pacific Coast League All Star team that defeated the Los Angeles Angels 10-0 in 1947.

Peruse the 1949 Bowman PCL Card Collection.